Inauguration of 16th Athletic meet witnessed presence of Arjun Awardee & International Boxer Mr.Mandeep Jangra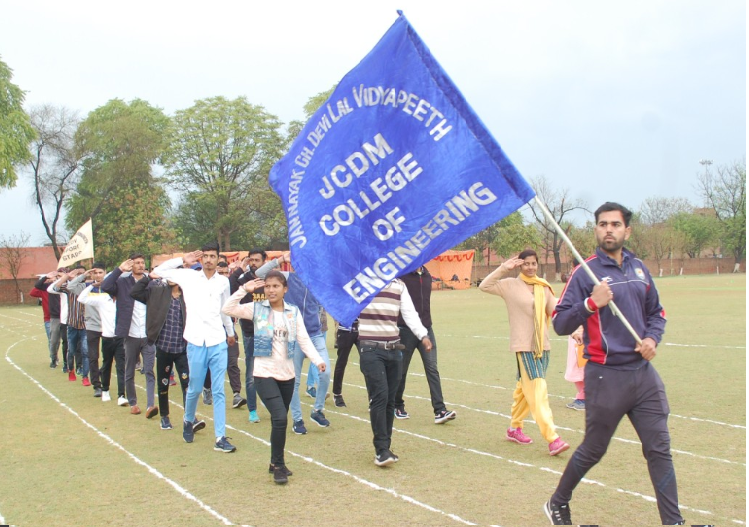 16th annual athletic meet inaugurated in JCD Vidyapeeth with great pump and show. The meet witnessed the wholehearted participation of athletes from all the constituent colleges of JCD Vidyapeeth. Dr. Shamim Sharma (Managing Director JCDV) expressed her heartfelt gratitude towards the august presence of the dignitaries which included Mr.Mandeep Jangra, International Boxer who graced the occasion as the Chief Guest and Ms. Payal Jangra(His better half) as Guest of Honor, along with Dr. Kuldeep Singh (Convener, Athletic meet), Dr Jai Parkash(Coordinator, Athletic Meet), Dr. Anupama Setia (Coordinator, Athletic meet), Er. R.S. Brar (Coordinator, Athletic meet), and other dignitaries of JCD Vidyapeeth. Dr. Shamim Sharma, Managing Director JCDV welcomed the Chief Guest and Guest of honor. She encouraged the students to get inspired from hard work and dedication of the Chief Guest. She motivated the students to actively participate in all the sports activities with complete sincerity and enthusiasm.
The Chief Guest expressed his gratitude towards JCD Vidyapeeth. He interacted with the students and answered all the queries raised by the students.In answer to a question,he emphasized on the importance of faith in the hard work done by students to achieve success.He further added not to bother about society and just believe in you and concentrate on achieving your goal.He also shared his story of struggle and success with the students. He also emphasized the importance of sports in student life as it helps in setting up targets in their career also.
The meet inaugurated with the flag hosting ceremony performed by the Chief Guest followed by torch relay by last year best athletes of Vidyapeeth. Student Captains of teams of all the constituent colleges of JCD Vidyapeeth took oath to participate with true spirit of sportsmanship.