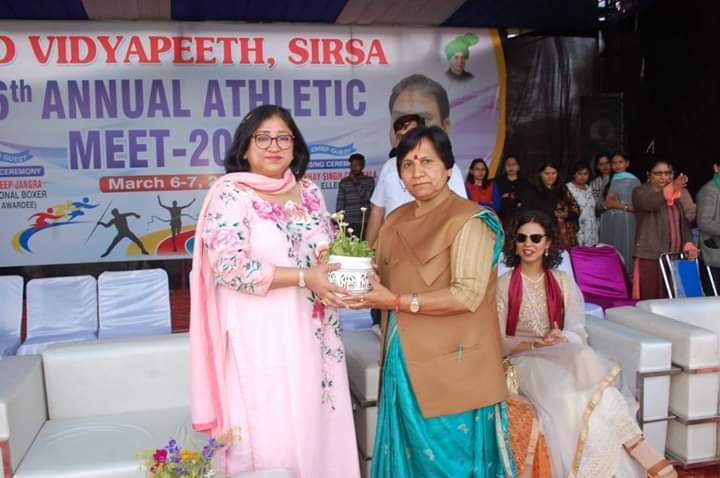 Valedictory of 16th Annual athletic meet organized with Holi celebrations in sports ground of JCD Vidyapeeth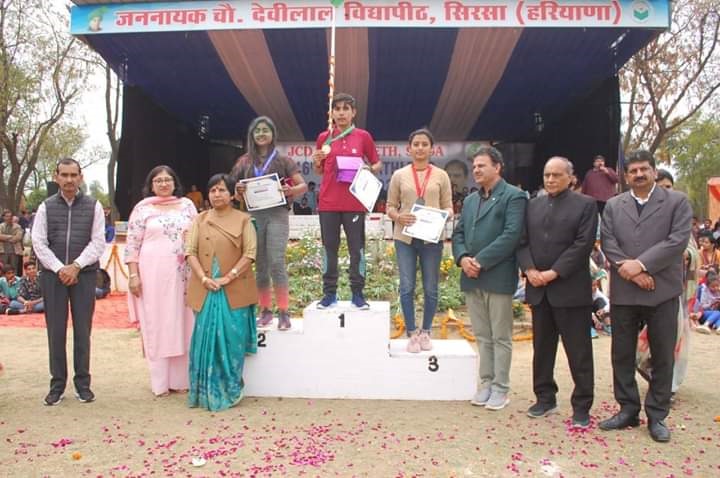 Two days sports event came to an end when Smt.Kanta  Chautala, Chief Guest of valedictory session of 16th annual meet declared it as closed on dated 7/03/2020.  Dr. Shamim Sharma (Managing Director, JCD Vidyapeeth) offered green plant to welcome the Chief Guest. She expressed her gratitude to the august presence of Smt.Kanta Chautala Ji along with Smt.Anju Doomra(President Inner Wheel Club),Ms.Kaynaaz(Choreographer & Sailor). Dr Kuldeep Singh (Convener, Athletic meet), Dr Jai Parkash (Coordinator, Athletic Meet), Dr. Dinesh Kumar Gupta (Coordinator, Athletic meet), Dr. Anupama Setia(Coordinator, Athletic meet), Er. R.S. Brar(Coordinator, Athletic meet), Sh. Sudhanshu Gupta (Registrar, JCD Vidyapeeth) and other dignitaries of JCD Vidyapeeth were also present on the occasion to welcome the Chief Guest. The Chief Guest congratulated all the students and staff members of JCD Vidyapeeth for organizing such a wonderful athletic meet. She appreciated the sincerity and dedication of student participants for giving their best in all the events. In her words, she guided the students that college life is the precious part of life, So enjoy every moment of it but do not cross the limits. Your actions should not hurt anyone.
The closing ceremony witnessed Holi celebrations in the form of Radha Krishan dance competition in the main ground of JCD Vidyapeeth. About 25 teams from all the constituent colleges of JCD Vidyapeeth participated in the dance competition whose theme was "Holi ke rang- Radha Krishan ke sang".